Iznik tiles are named after the town from Western Anatolia, Turkey where they are made. This highly decorated ceramic tile was used extensively in the imperial and religious buildings in Istanbul in the 16th century and in the new Sheik Zayid Mosque.
There are 80 Iznik panels in thed Mosque. Sheik Zayid Mosque of which there are two design types. One is the traditional blue and white calligraphy and the other is using the floral designs. All the tiles are handmade and fitted together in the traditional way. This is where the inspiration for Arabesque originated.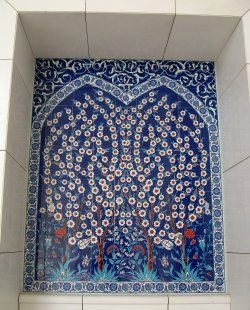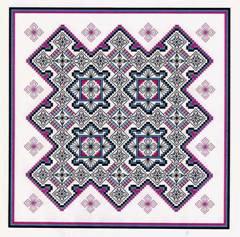 The collage includes different types of tiles and surfaces from many countries. The boys creating the inlays in Agra were following the tradition of centuries. The dome of the National Mosque in Kuala Lumpur contrasts with the roof tiles in Beijing which in turn contrast with the glazed tiles on the Islamic mosque and the red carved sandstone panels in the Red Fort, Agra.