Ceiling, "the overhead surface of a room", is the library definition but in no way does it reflect the variety, quality and sheer splendour of the ceilings I have seen throughout my travels. The arabesque ceilings were inspiring whether painted or worked in plaster & I have used them as the source for a number of my designs.
Arabesque is a repeating pattern of foliage. It is non-figurative and illustrates the beauty of creation. It is always stylised so that man does not imitate God's work. In arabesque patterns the plant designs are often against a contrasting background.
The arabesques interlace, weaving over and under in a way that makes them cling to the surface retaining the two dimensionality of the design.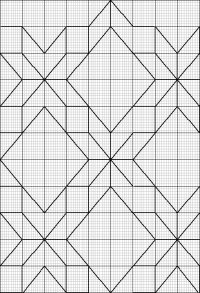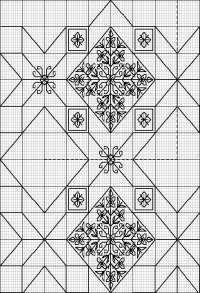 Partial outline for Arabesque design. It can be repeated as many times as is required to cover any area, therefore it is a tessellation.